Computational Linguistics Lab
The Cornell Computational Linguistics Lab is a research and educational lab in the Department of Linguistics and the Faculty of Computing and Information. It's a venue for lab sessions of classes, computational dissertation research by grad students, undergraduate research projects and grant research. The Lab is part of a larger Natural Language Processing group at Cornell, including faculty and students in Computer Science, Psychology and Information Science. Some computational work is also done on hardware at the Department of Computer Science and the Center for Advanced Computing.
Language Documentation Lab
The Cornell Language Documentation Lab is a research lab in the Department of Linguistics at Cornell University. Our members work on various language projects with communities throughout the world. The lab provides resources and space for research involving language documentation, description, and analysis, with an emphasis on understudied languages.
The physical space is located on the second floor of Morrill Hall, in room 226A. The lab space can be used for elicitation sessions with language consultants as well as for individual or group research. The lab provides a variety of hardware, software, and other resources for collecting, processing, analyzing, storing, and archiving language data. We also provide training and support for combining linguistic analysis with language documentation and community-driven projects.
Phonetics Lab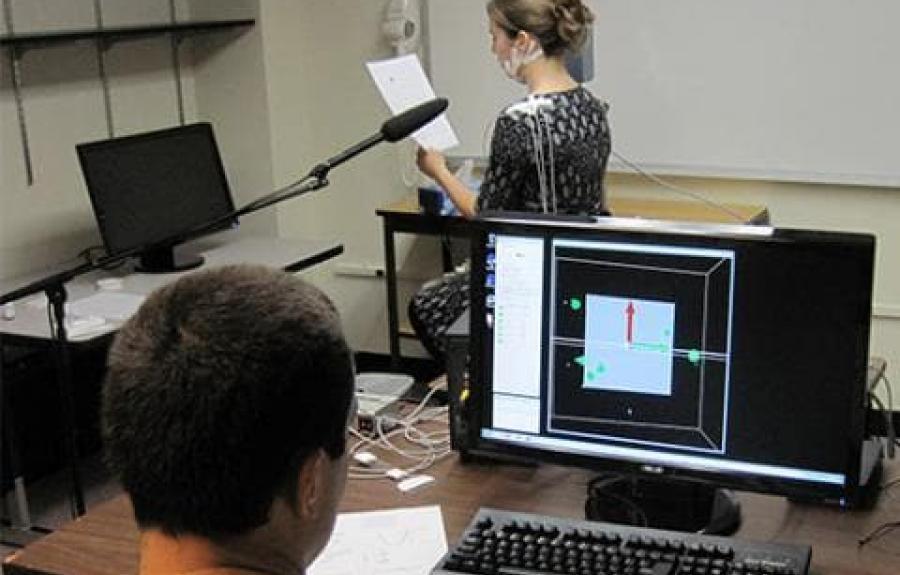 Speech is built on a relation between our perception of sound and the movements we make to speak. Students and faculty in the Cornell Phonetics Lab research various aspects of speech perception and production, aiming to understand how speech patterns emerge and evolve.