When Cornell shifted from in-person classes to virtual instruction in March 2020, individual faculty members were asked to quickly implement new technologies and strategies for keeping students engaged online. Though many had limited experience teaching via Zoom, they rose to the occasion.
Some produced scripted video lectures filled with music and video clips, some invited guest lecturers from around the world to Zoom in and share their expertise, and some incorporated online polls to encourage students to interact in real time via chat. Faculty whose subject matter required in-person instruction incorporated outdoor classes, small group instruction to maintain social distancing, and even fun costumes and music to raise students' spirits—while keeping them safe.
As the new academic year begins, we reached out to several faculty members across campus to share the lessons they've learned. Here, nine Cornell faculty members relay how they pivoted to respond to the pandemic, what the experience taught them, and how these insights have led to lasting innovations in their classrooms.
We hope you are inspired by their ingenuity, passion for sharing their knowledge, and dedication to and empathy for their students.
Miloje Despic: learning to read between the lines, online
Miloje Despic relaxing in his garden

"One of the biggest challenges ahead of us will be to find effective ways to overcome the sense of isolation and restore a positive outlook on students' academic future."
Miloje Despic, an associate professor in the Department of Linguistics, teaches a variety of courses—from large introductory lectures with students from various majors and colleges, to advanced graduate-level seminars in syntax, morphology, or semantics. "I teach a really diverse group of people, which includes many international students," he says.
The biggest challenge Miloje faced at the start of the pandemic was how to gauge his students' grasp of the material without being able to read their facial cues and body language. "In an in-person setting I can quite easily determine from the students' expressions if the material is too complex, too easy, or if I need to slow down or speed up," he says.
Without these useful clues, Miloje reminds students throughout his online lectures to jump in at any point if they have questions about the material or if they need further clarification. "I have tried to make my online classes as interactive as possible," he explains.
To accommodate international students in different time zones, who watch his online lectures asynchronously, Miloje set up one-on-one online meetings to answer questions and provide individualized help. "It took some time to get used to this mode of operating, but I think it worked fine in the end," he adds.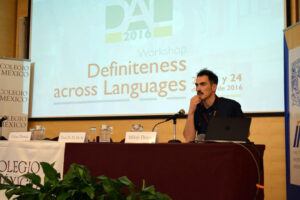 Miloje shared that, at the graduate level, where student's work often involves detailed structures, formulas, and examples, he has found the screen sharing feature of Zoom to be very useful. "It's really easy to point out subtle problematic details," he says. "Also, if during the discussion we remember some other analysis or paper that could be relevant, we can easily find it and discuss it right away, instead of leaving it for some future meeting. I feel that we cover more ground this way than by sitting in an office across from each other with paper copies of the document in our hands."
Another unexpected silver lining for Miloje is the fact that he's been able to attend many conferences online. "The immediate benefit, of course, is that there's no travelling (often exhausting and time-consuming) and we get to learn as much as in an in-person presentation," he says.
On the downside, Miloje worries that the pandemic has left many students feeling isolated, especially those in international locations. "One of the biggest challenges ahead of us will be to find effective ways to overcome the sense of isolation and restore a positive outlook on students' academic future," Miloje says.
Read other faculty stories here.